Scottsdale Chiropractor | Dr. Joseph De Bruin
Chiropractic Care Changed My Life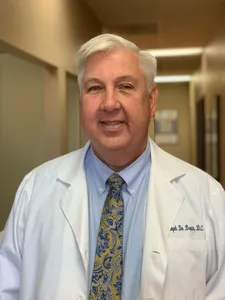 As a teenager something happened to me that changed my life forever…
Back then I was suffering from severe knee pain and had difficultly playing baseball and even bending over. An orthopedic surgeon recommended surgery on my knees. Fortunately, my parents sought out another opinion. This man worked on my back, my neck and my knees. By now you know what happened . I didn't have to have knee surgery! As time went by, I saw my entire family helped by chiropractic care. I was sold. By the time I was 16 years old I knew what I was going to do.
I completed my pre-chiropractic education at Arizona State University. After studying there, I was accepted to Logan College of Chiropractic in St. Louis, Missouri. During my four years at Logan, courses included biochemistry, a major emphasis on anatomy and physiology, radiology, diagnosis, chiropractic adjusting techniques and patient care at the Logan College Clinic.
Chiropractic can benefit you by; reducing your pain and suffering, increasing your energy level, helping you return to work and activities, finding the health that you lost and helping you maintain that health.
I consider myself an excellent listener and hope I get the opportunity to meet you in person and discuss your specific health challenge. Give our office a call or e-mail me at the link below.
Contact De Bruin Chiropractic now to schedule an appointment and begin care today.